find capital markets rules fast
Lexata helps public companies, investment banks and investment funds answer their own securities law questions. Working with outside counsel is faster and less expensive.
Lexata helps law firms advise on securities matters more efficiently, freeing up valuable time for analysis and strategy.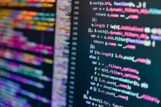 lexata's system is built for experts and non-experts alike

Login or register for a 14-day free trial. Here are some representative searches that Lexata handles with ease:
Lexata is built by securities lawyers and data scientists. The name Lexata reflects our work: bringing law and data science together. We treat legal rules as pieces of textual data that can be compiled, vectorized (turned into multi-dimensional sets of numbers) and searched just like quantitative data.
Search
Lexata's search for legal rules is best-in-class. Specific sections of law, from disparate sources, are ordered by relevance based on your question. We don't rely on keyword matches or boolean operators. We don't expect you to scroll through PDFs to find what you need. Lexata's search pinpoints exactly which sections you should read, with direct links to cross-referenced rules. Defined terms are underlined; when you hover over them, the definition appears.
Answers
Beyond search, Lexata aims to answer legal questions. We have built a novel natural language processing workflow to achieve this. We plan to release a beta version of this ground-breaking Q&A technology in Q4 2022.
Leslie McCallum, Founder and CEO
>> expert in Canadian and U.S. securities laws
>> Torys LLP; Shearman & Sterling LLP
we look forward to working with you